"The Lunar Chronicles" are the stories of classic fairy tales if they were being told 10,000 years in the future. Immerse yourself in a world of cyborgs, robots, aliens, and princesses as you are told the story of Cinderella, Snow White, Little Red Riding Hood, and Rapunzel through a fresh new lens.
I try to make it abundantly clear in all of my writing that I define myself as a feminist. This is a character trait I attempt to embody in every facet of life, whether it is at work or at home. That being said, when I find a book series in which the characters are strong, independent women, it makes my heart sing. Not only are the 4 main characters computer hackers, mechanics, leaders, and warriors, several are also princesses. Too often we view princess characters as sexist tropes or damsels in distress. The Lunar Chronicles shatters that stereotype, and the characters frequently find themselves in scenarios where they not only save themselves, but sometimes their male romantic counterparts as well. I will do my best to write this review with very minimal spoilers as I hope by the end of this, you'll be inspired to pick up the series for yourself.
Marissa Meyer does a superb job of intertwining old and new and creating a world that seems very steampunky to my imagination. The story opens in "Cinder", which (if it isn't obvious) is the story of Cinderella. In this world, however, Cinder is a cyborg. In the world of Cinder, cyborgs are not equal with humans, and therefore subject to severe inequality in comparison to humans. As a result, Cinder is essentially enslaved to her stepmother after the death of her adopted "father", the man who found her and rescued her by bring her to New Beijing.
The second book in the series is titled "Scarlet", and is a retelling of Little Red Riding Hood. Scarlet is the granddaughter of a very popular farmer who encounters a man (of sorts) who is called Wolf. Wolf has a tortured past, but finds comfort in the simple human comforts such as fresh vegetables. Through Wolf, Scarlet finds her grandmother's past is not as simple as it seems, and becomes entangled in a battle between her world and Wolf's.
Next, we have "Cress". Cress tells the story of Rapunzel, but instead of being trapped in a castle, she's trapped in a small spaceship (That's no moon…). Rapunzel is a brilliant hacker and computer geek with strong introvert tendencies due to her entrapment at a young age. Throughout her story, we learn why she was trapped in her cage, by whom, and she vehemently seeks justice for herself by aiding in the resistance.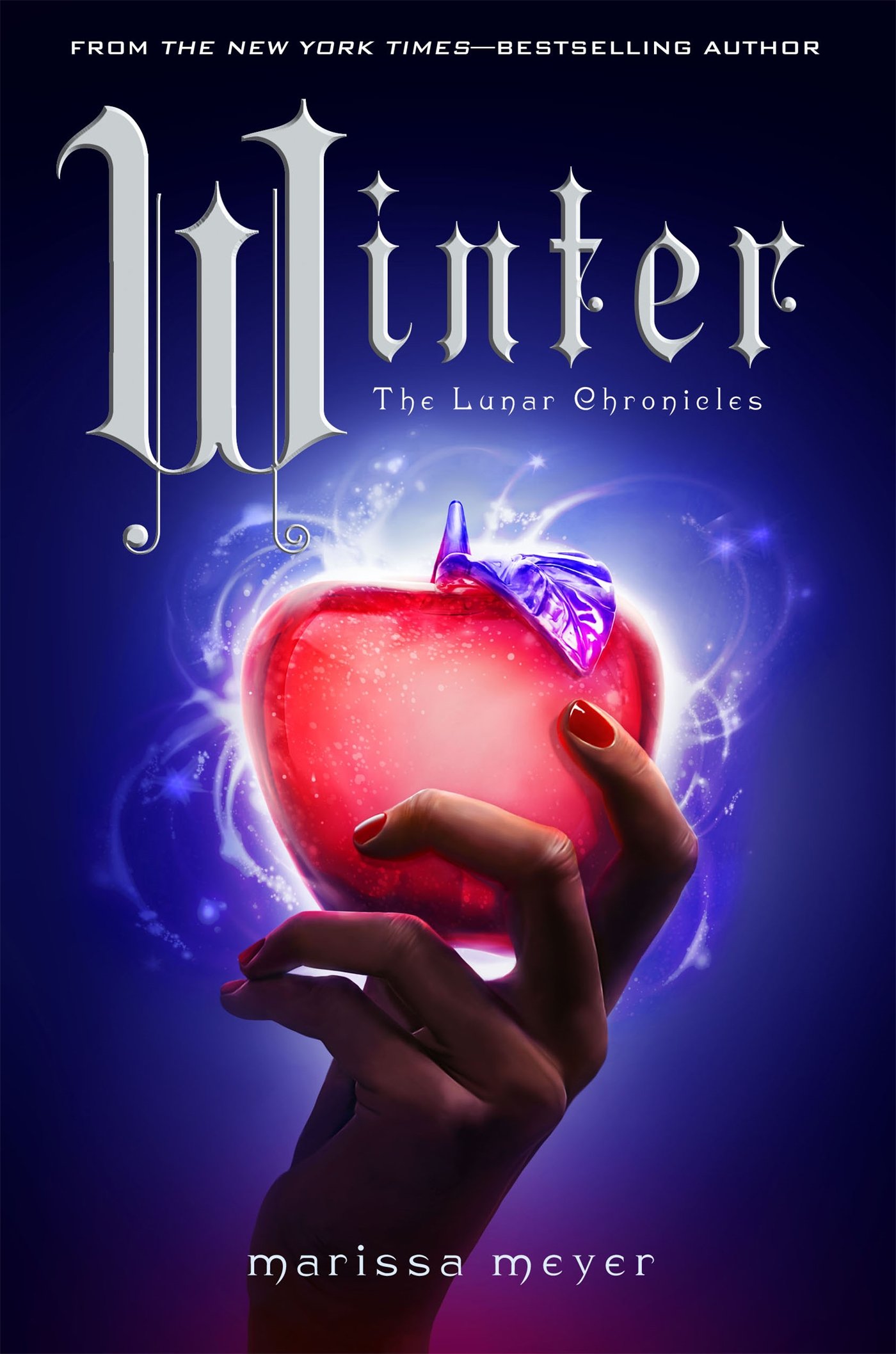 Finally, "Winter" is the story of Snow White. As you read Winter, you quickly realize that she has been a key player in the entire story all along. Behind every evil Queen is a story, and Winter is a huge factor in the Queen's story. Winter first seems like the most trope-y of characters, a shy and demure princess who is known for her beauty. She discovers in herself a power much stronger than she'd ever imagined, but struggles in the line between good and evil.
In addition to these stories, Meyer also wrote "Fairest", the story of the Evil Queen and how she came to be known as such, and "Stars Above", a collection of ministories set in the world of the Lunar Chronicles.
Not only are the main characters enchanting and inspiring, Meyer has the incredible talent of making you deeply invested in the outcome of every sidekick, partner, and romantic interest in the series. By the end, you may even find yourself feeling sympathy for the villain. If you love Sci-Fi sagas such as Star Wars, Star Trek, and Ender's game, and simultaneously adore the quick wit of Disney Princesses, I cannot recommend The Lunar Chronicles enough.
Shannon's geekiness began at an early age, growing up surrounded by Star Wars and Star Trek, and an obsession over Batman which continues to this day. She has delved into nearly every type of geekdom, including LARPs, gaming of both the video and board types, books, television, movies, and comic books. Sassiness and feminism abound in her musings, but she always seeks first to bring a smile to other's faces.

Shannon has a degree in Sociology and Women's Studies from the University of Northern Colorado, where she composed her award winning and nationally presented senior thesis titled "Behind the Shield and Under the Sheets: Sex and Sexuality in a Live Action Role Playing Game"
If this is not a statement of her nerdy feminism, what more could there be?

Follow her bookiness on GoodReads www.goodreads.com/novel_shenanigans
Latest posts by Shannon Bee (see all)